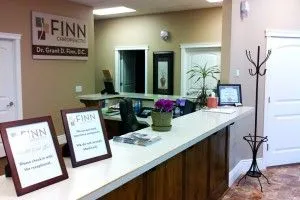 For over 38 years, Dr. Grant Finn has had experience treating patients with the following conditions:
Backaches
Carpel Tunnel Syndrome
Headaches/Migraines
Sports Injuries
Arm Pain
Pinched Nerves
Sciatica Pain
Bulging/Herniated Discs
Sprains/Strains
Mid-back Pain
Low-back Pain
Neck Injuries
Whiplash
Injury due to automobile accidents
On-the-job injuries (Workman's Compensation)
CHIROPRACTIC MANIPULATION
Manipulation or spinal adjustment is the minor movement of vertebrae in the spine. The overall goal of this is to restore normal mobility to the vertebral segment, thus, relieving pressure off the nerve. Also any adjustment or manipulation of the extremities helps to restore normal range of motion and function.
PHYSIO-THERAPY
Ultrasound
This therapy is used to help relieve muscle spasms. The ultrasound creates small sound waves that vibrate and massage soft tissues and muscles. Ultrasound also helps to decrease swelling.
Electrical Muscle Stimulation–
The electrical stimulation machine sends very small amounts of electrical current into the affected soft tissue injury. It helps by reducing inflammation and swelling. We have 6 different types of electrical stimulation available.
MASSAGE
We offer massage therapy throughout the week with our Licensed Massage Therapist.
BRACES/SUPPORTS
We have braces or supports to also help treat conditions of the spine and extremities.
SUPPLEMENTS
Professional grade supplements are available to help treat many conditions under the direction of a physician.
Some of the companies we partner with are the following:
Standard Process
Time Labs
Bio Natavis
The Key Company
Progressive Labs
Karuna
Rose Labs
PCHF
Vitaminerals
Bio Design
Marco Pharma
Venus Foods
Natures Forum
Bio Spec
AND MORE!